Simple Mailer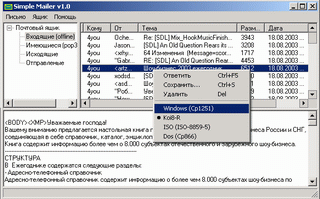 A simple POP3/SMTP client written over Builder C++ standard components.
It fits to floppy disk by size and it is portable so can be run directly from floppy (at the time USB drives was not so common).
It helped me a lot: it was so easy to insert my floppy disk into any computer in the lab at the university and read/reply at home.
Почтовый клиент. Программа задумывалась как простой почтовый клиент, который можно было бы записать на дискету и приходить с ней в места, где есть интернет для проверки новой почты и отправления заранее написанных сообщений. Она будет полезна людям, имеющим дома компьютер без интернета и вынужденых проверять почту откуда придется.
Downloads
Note: exacutable is compressed by PECompact
Links